POWER PACK for torque wrenches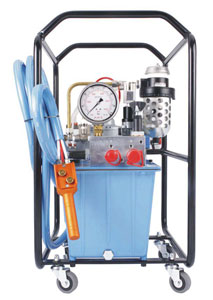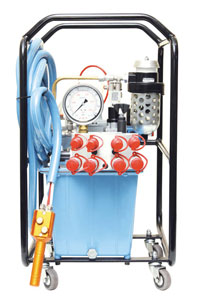 AP1000 with Mono Port                   AP1000 with Quadra Port
Features
Quadra-Port Multi-Port Manifold (Max. 4 Ports).
Cool running continuous duty axial piston pump.
Powerful 1.5HP industrial duty air motor.
Runs on 50 cfm / 80 PSI of air.
Quiet operation (approx. 80 dBA @ 10,000 PSI).
Rugged remote pendant to control motor and valve.
Easily adjustable pressure control knob.
Auto-dump relieves oil pressure from hoses.
Filter-lubricator for long trouble free operation.
2 Gallon oil reservoir.
Precise PSI/BAR pressure gauge.
Quick-connect no-drip couplers with safety locking collar.
Supplied with dual non-conductive high pressure hose with couplers.
Resvr. Size (Gal.)
Valve
Motor Specifications
Flow Rate @ 50 cfm/ 90psi
Weight
Control
Type
600 psi
10,000 psi
kg
lbs
2
Solenoid
3 Way/2 Pos.
1.5 HP Rotary Air
9.83 lpm
0.82 lpm
27
59